Tools of the Trade
Click to order these tools on-line!


Download a PDF format catalog on tools

Thickness gages, digital micrometers, stainless steel rulers and these other inexpensive Caprock tools are used at work and home for all kinds of applications, from machine work to measuring thickness.
Pocket Thickness Gages (Paper Mics)
Used to measure the thickness of any non-compressible material, from paper to plastic to metal. Note that "points" are just thousandths of an inch (i. e. 024 points = 0.024")
TG.5
TG.5MM

TG/E
TG-.5: Dial Thickness gage measures up to one-half inch in .001 divisions, vinyl pouch, $132.
TG-MM: As above, but up to 13 mm in .1 divisions, $132.
TG/E: Electronic thickness gage, digital display, measures up to .5 inch or 12 mm, push-button change from inches (nearest .0005) to metric (to .01), hard plastic case, $168.
TG/E-1 inch: As above, but up to 25mm or 1 inch, $195.
Especially suited for measuring compressible materials such as rubber printing blankets, because a ratchet mechanism applies consistent pressure when measuring. Both have easy-to-read digital displays.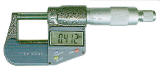 MIC/E
MIC/E: Electronic digital display, push-button change from inches (measures up to one inch in .0001") to metric (up to 25 mm in .001 mm), $170.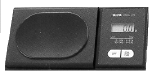 A revolutionary way to easily determine the precise basis weight of all papers and boards by weighing a single 8.5 x 11 inch sheet of paper. Consists of a pocket size digital scale, multipliers for each of the six U. S. grades of paper and charts for quick reference to weights. Measures grammage using an A4 sheet and one multiplier, only $270.
Plexus Truetest Durometer

For measuring the Shore A hardness of compressible materials, especially well suited for printing-press rollers and silkscreen squeegees. Dial indicator with moveable face for calibration. State-of-the-art Delrin body and stainless steel mechanism meet aerospace specifications, only $329.
Precision Screen Finder/Mesh Counter
PSD: Our Precision Screen Determiner (PSD) measures lines per inch of repeating patterns on film, paper, screen mesh etc., from 50 to 250 lines per inch, $7.

Printer's Line Gages (Pica Poles)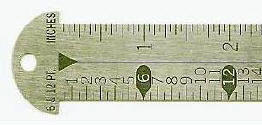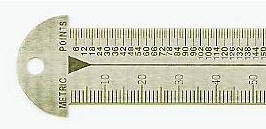 612H: These precision stainless steel rulers are referred to as printer's line gages, pica poles, pica sticks and other nicknames. Available in two sizes, they both have scales in inches and picas on one side and metric and points on the other. They even make great back scratchers! 12 inch: $14, 18 inch: $18.
Call, fax or e-Mail for more details!