Magnifiers
Click to order magnifiers online now!

Download a PDF format catalog on magnifiers
Magnifiers and hand-held microscopes are used by printers, silkscreeners, PCB manufacturers, quality control workers, collectors of coins, stamps & antiques, naturalists, needleworkers, forensics specialists, hobbyists, conservators, geologists and others.

Keep in mind that for all magnifiers, there is a general relationship between the three key specifications for a lens: the diameter, the focal length (working distance between the surface and the lens), and the power. Generally, a higher power magnifier will have a smaller diameter and shorter focal or working distance than a lower power magnifier. That's why, for example, it is not optically possible to make a 1 x 1 linen tester in 10X or why the 20X inspection loupe has a smaller lens than the 12X and less room to work underneath.
NEW: 6X Wide Field Table Magnifier

WF-6: This brand-new magnifier offers an unbeatable combination of distortion-free 6 power magnification and lots of room to work underneath! The viewing area is 2 inches across and 1-1/2 inches tall! The double aspheric design guarantees excellent clarity and sharpness from edge-to edge of the 33mm diameter lens, while the cutaway base allows 180° access to the subject. The focus is fully adjustable. A plastic cap is included to protect the lens. You'll find this magnifier available elsewhere for over $79, but our price is just $42!!
NEW: 5X LED Illuminated Linen Tester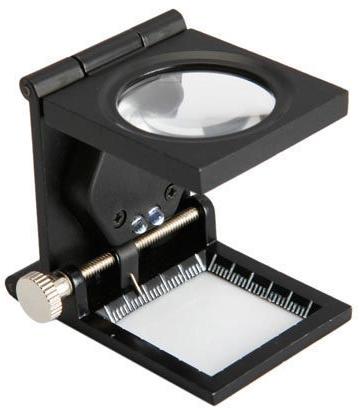 LED-5: This is a heavy-duty metal linen tester with a high quality single glass lens that provides 5X magnification. Thanks to illumination by two bright-white LEDs, you will be able to see details not possible using a standard linen tester with no light. The threaded pointer scrolls across the back edge of the magnifier so you can easily count threads and mark your viewing position. The 1 x 1 inch opening gives you plenty of viewing area. Supplied with a vinyl pouch. Only $20!
Linen testers are the workhorse of magnifier- rugged and inexpensive, they are used any time that low power magnification is needed. They sit on the surface for hands-free viewing of the subject matter. They were originally used to count fabric threads, and all our linen testers have scales around the square opening at the bottom. All fold up flat for easy carrying.
MLT-6
MLT-9
CLT-10
PLT-8
MLT-10
MLT-6: The most popular magnifier we sell, 6 power, double element glass lens, anodized metal frame with etched measuring scale around the 1"x1" opening, 1½ working height, vinyl pouch, $20.
MLT-9: As above, but 9 power, ½ x ½ opening, 1" working height, $20.
CLT-10: A 10X chrome linen tester ½ x ½ opening, snaps open with a spring, just like the old brass linen testers which are no longer available. Comes in vinyl case for safe storage, $20.
PLT-8: 8 power, plastic lens and frame, ¾ "x ¾ " opening, 1½ working height, imprinting available $11.
Inspection Magnifiers/Loupes
Used where higher quality optics are needed. All have color-corrected, multi-element glass lenses for "flat-field" (distortion-free) viewing across the entire working area. Threaded lens mounts allow adjustable focus with locking rings to retain focus. "W" series have jumbo 19 mm lenses for a 60% larger viewing area.
FM-10
FM-12W / FM-20
SW-12W
FM-10: 10 power, Pitman Paragon, folds up to protect lens when carrying, $60.
FM-12W: 12 power extra wide (19mm) lens, $72.
FM-20: 20 power lens (10mm) lens $72.
SW-12W: As FM-12W above, extra wide lens, but with swivel base, $64.
Special Purpose/Low Vision Magnifiers
Doublets for jewelers, coin & stamp collectors, "Egg Cup" for large viewing area, rectangular Reading Glass for the "fine print" and an 8 power measuring magnifier.
SO-21: 10 power jeweler's loupe, 21 mm diameter doublet lens, small size folds up so it's easy to carry with you, chrome-plated, $20.
EC-8: 8 power very economical plastic magnifier is great for looking at slides, stamps, coins, photographs, printed sheets, etc. Multiple-element lens, 1-1/2 inches tall, 25 mm diameter lens, $16.
TSF-8: 8 power measuring magnifier has a built-in scale to measure points

(1 point divisions)

for type size and inches

(0.01" divisions)

to measure length and count threads, $25.
TSF-8 (mm): As above, but with scales in points and millimeters (divisions of .5 mm), $25.
(See detailed specifications)