Caprock brand compatible Flash IR replacement lamps for M&R
We supply Caprock brand compatible replacement lamps for all M&R flash dryers. There are three common type of quartz lamps used in M&R quartz flash units including:
Cayenne • Cayenne D • Cayenne D Alpha • Cayenne Z • Challenger • Challenger D • Challenger Z • Challenger II • Omni • Red Chili • Red Chili 1418 • Red Chili 2024 • Red Chili 2028 • Tacana • Tacana D • Tacana Z • 1800 Series (1818, 1822, etc.)
Caprock Rapid Start (Instant On) Medium Wave Flash (IR) Lamps
Ultra-fast starting (instant on) medium wave quartz halogen lamps come up to full operating temperature very quickly. They have a distinctive "spiral" filament, compared to standard short wave or medium wave lamps.

The lamps are spring-loaded into the machine using an R7S fitting, with a pin fitting into the recessed tip at the end of the lamp. Most lamps are 240 volts/1,500 watts, and come in overall lengths of 15.4 inches (392mm), 17.8 inches (452mm), 20.25 inches (515mm), and 24.25 inches (616mm) and are all three-eighths of an inch in diameter.
Caprock brand comapotible flash IR replacement lamps are available for these common M&R part numbers:
1007119 • 1007192 • 1007210 • 1007210A • 1007211 • 1007211A • 1007211C • 1007251 • 1007251A • 1007252 • 1007252A • 1007253 • 1007255 • 1007256 • 1007257 • 1007258 • 1007259 • 1007262 • 1007166 • 1007269 • 1007270 • 1007273 • 1007279 • 1007287 • 1007288
Click to order fast start medium wave flash lamps now!
CaprockMedium Wave Flash (IR) Lamps

Standard medium wave lamps, also use an R7S fitting, but with a metal overcap. These lamps typically measure one-half inch in diameter. Unlike quartz halogen lamps, these are not sealed at the ends- the filament is attached to the caps to hold them on. The lamps must be warmed up before they reach the full operating temperature.
Caprock brand compatible replacement lamps are available for these common M&R part numbers:
1007131 • 1007133 • 1007134 • 1007137 • 1007141 • 1007143 • 1007144 • 1007158
Click to order medium wave flash lamps now!
M&R Instant On Short Wave Flash (IR) Lamps

Like rapid start medium wave lamps, standard quartz-halogen lamps are also considered " intant on", because they reach full operating temperture very quickly. They use a variety of end fittings (such as R7S ceramic, ceramic blocks with wire leads, and metal sleeve with wire leads), and are made from tubing measuring three-eighths of an inch in diameter.
Common part numbers include:
1007259 • 1007260 • 1007261/380V • 1007261/415V • 1007262
Click to order M&R short wave flash lamps now!
Spring Sockets for M&R R7S (Spring-Mounted) IR Lamps
When replacing lamps it's a good idea to check the sockets. Arcing can cause pitting and poor electrical contact and the high temperatures at which these lamps operate can cause the ceramic components to crack. These problems can shorten lamp life and cause premature lamp failure. We supply the 1007101A replacement sockets for all M&R machines.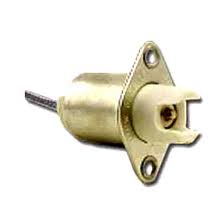 Click to order this socket now!