Heidelberg Twin Tube (IR) Lamps
We supply replacement lamps for all Heidelberg infrared (IR) dryers. These are primarily twin tube lamps with gold reflectors.
Heidelberg Twin Tube (IR) Lamps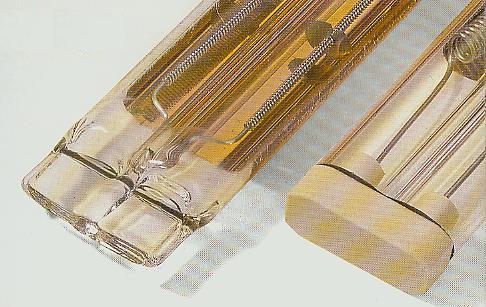 There are three common types of twin tube IR lamps used in Heidelberg dryers: Short wave, Fast-response medium wave and standard medium wave lamps. Short wave and fast-response medium wave lamps are characterized by a flat pinched seal at the ends (left picture), while standard medium wave lamps are not sealed (right picture). Many systems use a mix of types. All three are constructed from two tubes fused together to make a single lamp. The gold coating on the back of the lamp reflects the heat onto the paper for maximum efficiency.

Twin tube lamps come in a variety of voltages and wattages, and may be heated in both sides (channels) wired in series or parallel, or heated in one channel, with the other used for a return wire.
Here are some common part numbers and the presses they are frequently used on:

| | |
| --- | --- |
| Part Number | Press Model |
| C7.170.0301/01 | Speedmaster SM102 / CD102 Drystar 2000 |
| F7.170.0771/01 | Speedmaster XL 105 Drystar 3000 |
| G4.170.0101 | Speedmaster SM52 Drystar Ink |
| M6.170.0301 | Speedmaster XL75 SM74 / CD74 Drystar 2000 |
| 53.170.1311 | M Offset (MO) Short Wave |
| 53.170.1411 | M Offset (MO) Medium Wave |
| 83.170.1311 | Speedmaster SM72 Short Wave |
| 83.170.1411 | Speedmaster SM72 Medium Wave |
| 91.170.1311 | Speedmaster SM102 Short Wave |
| 91.170.1411 | Speedmaster SM102 Medium Wave |
| C7.170.0716/01 | Speedmaster SM102 / CD102 Interdeck |
Other part numbers referenced for Heidelberg twin tube lamps include:
01765 / 1765 • 05784 / 5784 • 05785 / 5785 • 05786 / 5786 • 0976 • 51307 • 57498 • 6019 • 7498 • 213011 • 213012 • 213048 / H213048