Hanna HI 9811-5
Hanna Instruments HI 9811-5 pH / EC / TDS meter
Combination pH / EC / TDS /Temperature tester
Rugged casing
EC (Electrical Conductivity) in micro siemens
TDS (Total Dissolved Solids) in ppm
Temperature in degrees centigrade
Automatic temperature compensation
Combination pH / EC / TDS probe with 1 meter cable
Only $200!!
The HI 9811-5 meter from Hanna Instruments is designed for fast, efficient and high accuracy pH and EC/TDS measurements. No more switching meters to measure the pH and then the EC or TDS of a solution. Calibration has been simplified to one point for both pH and conductivity modes. The specially engineered pH electrode features a fiber junction and a gel electrolyte for faster response and reduced contamination. The HI 9811-5 is supplied complete with probe, a 9V battery, and a starter kit of buffer solutions.
Do you need a pocket meter that also measures temperature? Consider the HI 98129 for low range conductivity or the HI 98130 for high range! Both meters measure full scale pH along with temperature in Centigrade and Fahrenheit!
Click to go to order the meter and solutions now!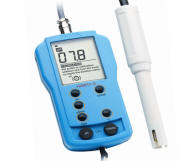 Click for information about calibration solutions
Click to download a PDF of the instruction sheet for this meter
| Specifications: | | |
| --- | --- | --- |
| Range | pH | 0.00 to 14.00 pH (full scale) |
| | EC | 0 to 6,000 µS/cm |
| | TDS | 0 to 3,000 ppm/cm |
| | Temperature | 0.0 to 70.0 °C |
| Resolution | pH | 0.1 pH |
| | EC | 10 µS/cm |
| | TDS | 10 ppm |
| Accuracy (@ 20°C/68°F) | pH | ±0.10 |
| | EC/TDS | ±2% Full Scale |
| | Temperature | ±1.0 °C |
| Typical EMS Deviation | pH | ±0.10 |
| | EC/TDS | ±2% Full Scale |
| Calibration | pH/EC/TDS | 1 point with trimmer |
| Temperature Compensation | ph | Automatic |
| | EC/TDS | BETA 2% per °C |
| Environment | | 0 to 50°C (32 to 122°F) |
| Battery Type/Life | | 1 x 9V / 150 hours |
| Dimensions | | 145 x 80 x 36 mm (5.7 x 3.1 x 1.4") |
| Weight | | 230 g (8.1 oz.) |