Caprock Brand compatible Flash (IR) Lamps for lamps for Anatol
We supply Caprock brand compatible replacement lamps for all Anatol flash dryers, including their Rapid Wave, Accu-Smart and Accu-Temp models. These all use the same style ultra-fast starting medium wave quartz halogen lamps, with a distinctive "spiral" filament, compared to standard short wave or medium wave lamps.

The lamps are spring-loaded into the machine using an R7S fitting, with a pin fitting into the recessed tip at the end of the lamp. Some lamps, with designtaion "SK" have rectangular ceramic blocks with wire leads. Most lamps are 240 volts/1,500 watts, and come in overall lengths of 15.4 inches (392mm), 17.8 inches (452mm), 20.0 inches (510mm), 20.25 inches (515mm), and 24.25 inches (616mm). Call or email for pricing and availability.
Here are some of the Common part numbers for wich we offer Caprock brand compatible replacementsinclude:
S960A0000085 • S960A0000093 • S96080000155A • S960A0000999 • S960A0000154 • S960A0000183 • S960A0000202 • S960A0000205 • ANMW15 • ANMW18 • ANMW20 • ANMW24 • ANMW17-SK • ANMW17-SK-1500 • ANMW20-SK • ANMW20-SK- 1500 • ANMW22-SK • 29RF-4501524HME • 29RF-5091524HME • 4030048 • 4030071 • 4030144 • 4030203 • 4030204 • 4030205 • 4030208
Caprock brand Sockets for Anatol R7S (Spring-Mounted) IR Lamps
When replacing lamps it's a good idea to check the sockets. Arcing can cause pitting and poor electrical contact and the high temperatures at which these lamps operate can cause the ceramic components to crack. These problems can shorten lamp life and cause premature lamp failure. We supply the replacement sockets for Anatol machines under the Caprock number CD/4030097.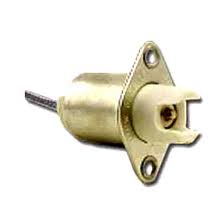 Click to order this socket now!